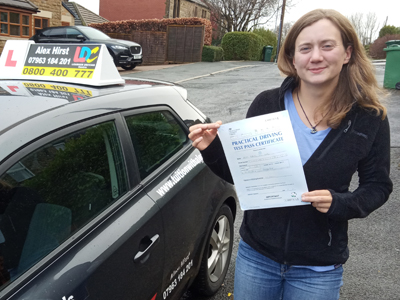 Becky Lodge
1st Time Pass!!
I really like the LDC workbook and video as it helps you prepare for your next lesson. The book is also good for allowing you to reflect on your lessons and identify any areas you want to improve on. Alex is a very good instructor, he is personable and takes the time to make sure all my questions are answered thoroughly and precisely'.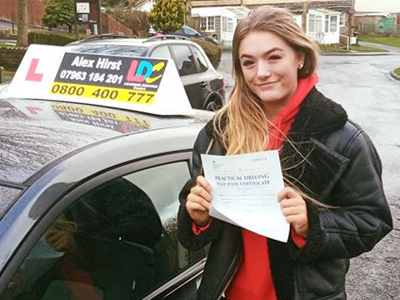 Emily
Excellent Pass!
I'm really happy I chose to have some extra lessons before my test. Alex was great at picking up on some minor areas that needed improvement, he is understanding and has a a patient approach to instructing.
Andrew Brown
Super Feedback!
I initially looked at other driving schools, but liked the look of the LDC system and how it worked. I really like the workbook as it helps you plan for the next lesson and the reflection section at the end of each topic area helps you to identify any areas for improvement which can be worked on in the next lesson. I really like Alex's approach to teaching, he is calm and patient and is helpful in pointing out what areas I need to work on and how they can be improved. I'm really glad to be learning to drive with an LDC instructor.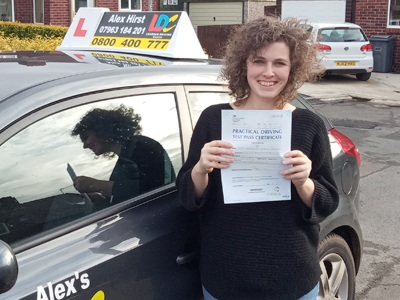 Heather Sewell
1st Time Pass!!
I had been delaying driving because I was scared witless of doing so but having Alex as an instructor has been amazing! He gets the best out of me by pushing me but not so much that I'm shaking in fear, lol. His laid back but professional approach is beyond what I thought an instructor could possibly be. I can't praise him enough. Above a 5 star rating for sure!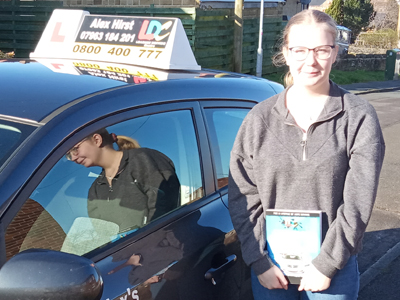 Georgie Radley
Great Feedback!
I like that Alex makes driving enjoyable for me as a learner, I was so sceptical about driving at first but I look forward to having the lessons now! The LDC workbook and videos really help me out and prepare for the next lesson. Alex is a really good instructor. He is patient and if I've lost a bit of confidence Alex picks up on that and he makes me feel comfortable by letting me drive around my local area to build my confidence back up. My progress has really come along recently and I'm happy at the level I am at for the amount of time I've been learning.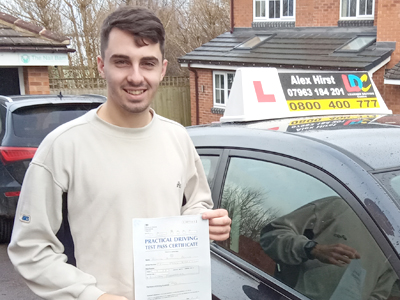 Richard Dennis
Superb Pass!
Alex provides a very professional service, is punctual, flexible and effective. He creates a comfortable environment for people to learn to drive at a pace that suits them. Alex's patient style has undoubtedly enhanced my progression towards obtaining my driving license.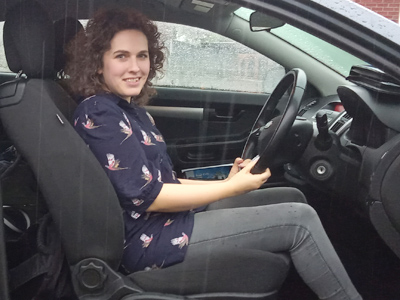 Heather Sewell
Fantastic Progress!
After 4 lessons as part of a semi-intensive course i'm glad I chose to go down the LDC route. I like the fact that you can read the workbook and watch videos before the lesson. This approach gives you some foresight into what you will be covering in your lesson and it feels a much more holistic approach to learning. The system also gives you the opportunity to reflect on your progress and continue at your own pace. Alex is a good instructor and helps me understand where I can make improvements, he always has my back and has a really easy going disposition which makes the learning enjoyable.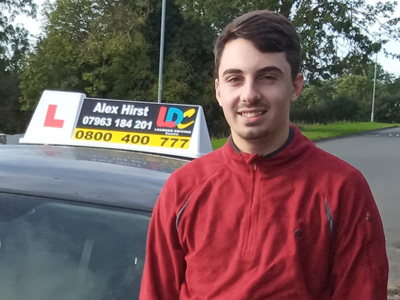 Richard Dennis
Great Start to Training
After 3 lessons I am really impressed both with the LDC system and Alex's approach to tuition. The LDC workbook and videos are simple and straightforward to use and give you a great 'heads up' as to what you will be covering in the next lesson. The LDC system helps you progress at a fast rate. I like how it is structured and how it gives me ownership of my own development. Alex is a really good instructor, he is very personable, patient and has a great approach to giving me the assistance and prompts which I need. I also like the fact that he carries out regular reviews during the lessons.